Lifestyle
Taking a Few Liberties With the Freedom Trail
David McCullough, historian and author of the bestseller 1776, asserted memorably that "history is who we are, and why we are the way we are." Declarations like this provide us with a powerful motivation to probe the past.
But we respond with almost equal enthusiasm to the comment by essayist Samuel Johnson — someone who actually lived in 1776 — that there is "nothing yet contrived by man, by which so much happiness is produced as by a good tavern or inn."
So it comes to this: You're in Boston for a few days, you've revealed your affinity for historic settings by staying at the Fairmont Copley Plaza, and you're intent on delving into the birth of America by experiencing the famed Freedom Trail®. It's the city's curated collection of museums, churches, meeting houses, graveyards, parks, a private home, and historic markers, organized as a walkable guide to the American Revolution's origins.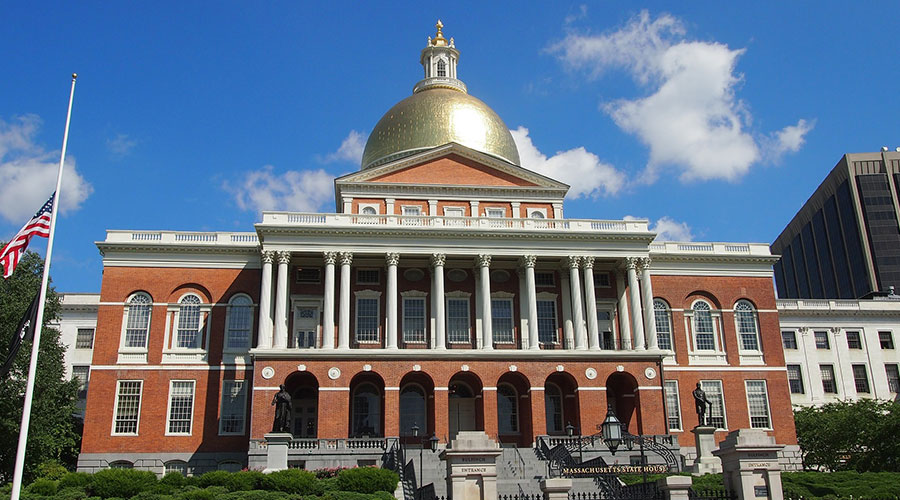 But, hey, it's 2.5 miles long, with 16 official historic sites (some a bit off-topic in terms of the Revolution itself). Which makes it all the more appealing to take some "liberties" of your own while on the trail — namely, by replacing some landmarks with the many taverns, pubs, and restaurants along the way.
Many of these establishments have compelling histories of their own, which makes sense, considering those very Sons of Liberty that the Trail celebrates were known to enjoy "adult beverages" as much as (or more than) we do. Sam Adams was a malster by trade for a time. Benjamin Franklin once said, "God made beer because he loves us and wants us to be happy" — or something very close to that. Paul Revere, who lived for 43 years after his famous ride, became a factory owner who displayed advanced views of labor relations, including, as one account tells us, allowing "liquor on the job."
So, we're not committing outright rebellion in customizing the tour — just mixing and matching to offer you a taste of Boston's most compelling history and some historically inspired libations.
The first three stops are Boston Common, the first public park in America; the Massachusetts State House, built 20 years after the Revolution broke out; and the Park Street Church, built another 10 years after that.
From here, take some time to explore Park Street Church's next-door neighbor, the Granary Burying Ground. Markers in this cemetery bear the names of Paul Revere, Samuel Adams, John Hancock, and all five victims of the Boston Massacre, including Crispus Attucks, the first African-American casualty of the Revolution. Cars stream past you on Tremont Street, but as you move among the 17th-century gravestones, the city slows down around you. If you need a timeout, pop into Emmets, a classic Irish pub serving up authentic Irish fare to pair with a perfectly poured pint of Guinness.
Walk onward just one city block to arrive at King's Chapel and King's Chapel Burying Ground, which lies adjacent. The chapel dates to 1686 — it's got the oldest pulpit still in use in America — and George Washington bent a knee there. The interior is an exquisite example of Georgian architecture and the bell they still use today was cast by Revere himself. In the cemetery lies John Winthrop, first governor of the colony and the guy who coined that "city on a hill" phrase, William Dawes, a fellow horseman on Revere's ride, and Mary Chilton, the first female to step off the Mayflower.
Next, stride past the original site of the first public school built in America, Boston Latin — while the statue out front of former student Benjamin Franklin is worth a glance, the school has moved many times in its 385-year history (and Franklin moved to Philadelphia).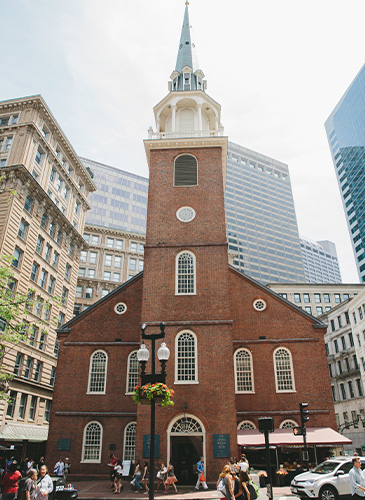 Up next is the Old Corner Bookstore and the Old South Meeting House. The bookstore can be appreciated by examining the exterior and noting some interesting facts about famed literary works published by a long-ago tenant, Ticknor & Fields — Thoreau's Walden, Hawthorne's The Scarlet Letter and Longfellow's Midnight Ride of Paul Revere among them. Expect to get goosebumps while visiting the Old South Meeting House. Built in 1729, a huge assemblage of colonists gathered here in December 1773 to rail against British taxation, stirring up enough anger to proceed directly to three ships anchored nearby and dump their loads of tea overboard, in what became known as the Boston Tea Party.
Historic events of this sort can be so compelling we need to let them sink in, so go ahead and grab a drink and a bite at The Hub Pub, a block back up toward Benjamin Franklin statue on Province Street. Self-dubbed "the friendliest pub in the Hub," it's your classic low-key joint, with plenty of drafts, cocktails, wine, bar food, and pool tables.
A study in contrasts awaits as you stroll toward the Old State House and its adjacent Boston Massacre Site. Just a small square located at one of the city's most complex intersections, the infamous site is well-marked and its significance is poignant, especially considering that the event occurred five years before war broke out. Alongside it inside the Old State House you'll encounter a stately, serene view of colonial life, with historic rooms containing multi-sensory exhibits, fine art, and important artifacts.
Except for one additional stop, the downtown Boston segment of the Freedom Trail is complete. What awaits you is the relative quiet of the North End and, from there, the even more insular realm of Charlestown. Of course, that one additional stop downtown is Faneuil Hall. Four separate buildings comprise the large complex — the endearingly historic hall that Peter Faneuil built on behalf of his fellow citizens, and the official site where in 1764 the colonists first protested King George's Stamp Act and Sugar Act, shouting rebellious rhetoric that still echoes: "No taxation without representation."
Three other historic buildings known as Quincy Market, South Market, and North Market make up Faneuil Hall Marketplace, where endless outdoor hangout spaces and shops are scattered throughout.
After exploring Faneuil Hall's 17th-century artifacts along with the Marketplace's 21st-century amusements, you'll be on your way to Paul Revere House in the North End. Built in 1680 and the oldest remaining structure in Downtown Boston, the house offers the chance to appreciate a multifaceted artist, entrepreneur, and insurrectionist. When you emerge from the Paul Revere House, you may want to peek at the menu of the Italian eatery Aqua Pazza one block away, imagined by one of the North End's great restaurateurs, Frank DePasquale.
You could also circle yourself back to Aqua Pazza within the hour, after a short walk that takes you past Cyrus Dallin's monumental bronze statue of Revere on horseback, then down a quiet promenade that leads to the Old North Church. Known as Boston's oldest church and the site that launched the American Revolution, it's worth a visit inside. And up Hull Street, you'll reach Copp's Hill Burial Ground.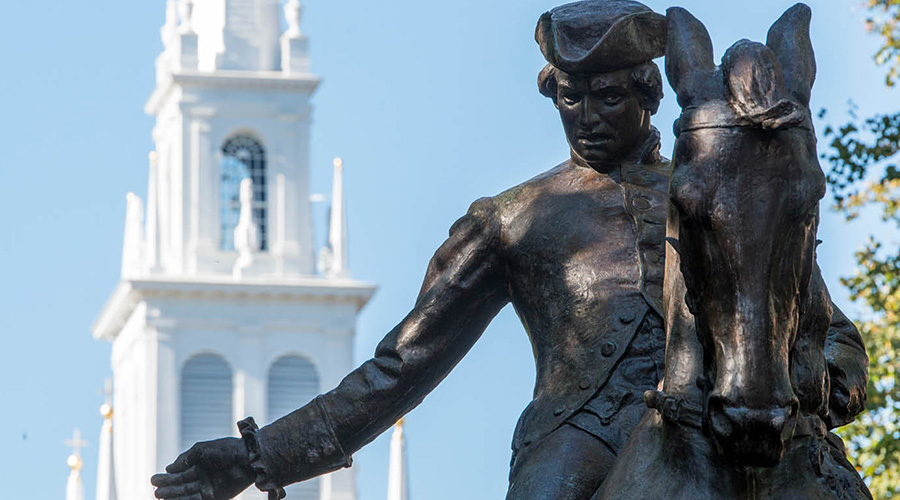 Copp's Hill Burying Ground provides a quiet conclusion to this edition of the Trail, which leaves out the Bunker Hill Monument and the USS Constitution. The latter is post-Revolution, strictly speaking, and the former demands a 40-minute round trip on foot. Meditating in the graveyard a while gives you a touch of the infamous Battle of Bunker Hill, because the hilltop cemetery was used by the British as a vantage point to train their cannons on the colonists.
Of course, some visitors reverse-walk the Trail by taking a cab ride out to Charlestown and starting off there, working backward all the way to the Common and the Massachusetts State House, with its golden dome reflecting the late afternoon sun. One piece of advice for those taking that route? Try No. 9 Park, a gourmet getaway tucked into a handsome building just across from the State House. It's worth a trip into town all by itself.
For more information about the Freedom Trail, visit TheFreedomTrail.org
Feature photo: Faneuil Hall / Photo Credit: Freedom Trail® Foundation