Explore Boston
Catch a ball game, shop haute couture and tour national treasures in America's historic seaport city. Fashionable since the Victorian era, Back Bay is Boston's most exclusive address: historic, charming, well-heeled and situated at the heart of it all. Stroll to the stately Boston Public Library, famed Beacon Hill, Trinity Church, Boston Tea Party Ships and Paul Revere House. Meander past heritage ships, cemeteries and meeting houses along The Freedom Trail, a self-guided tour of 16 sites capturing the country's birthplace history. Shop, dine and people-watch on stylish Newbury Street, at Faneuil Hall Marketplace, Copley Place Mall and The Shops at Prudential Center. Rent BMW bikes to ride the waterfront or spend an afternoon at Fenway Park, home of the Red Sox.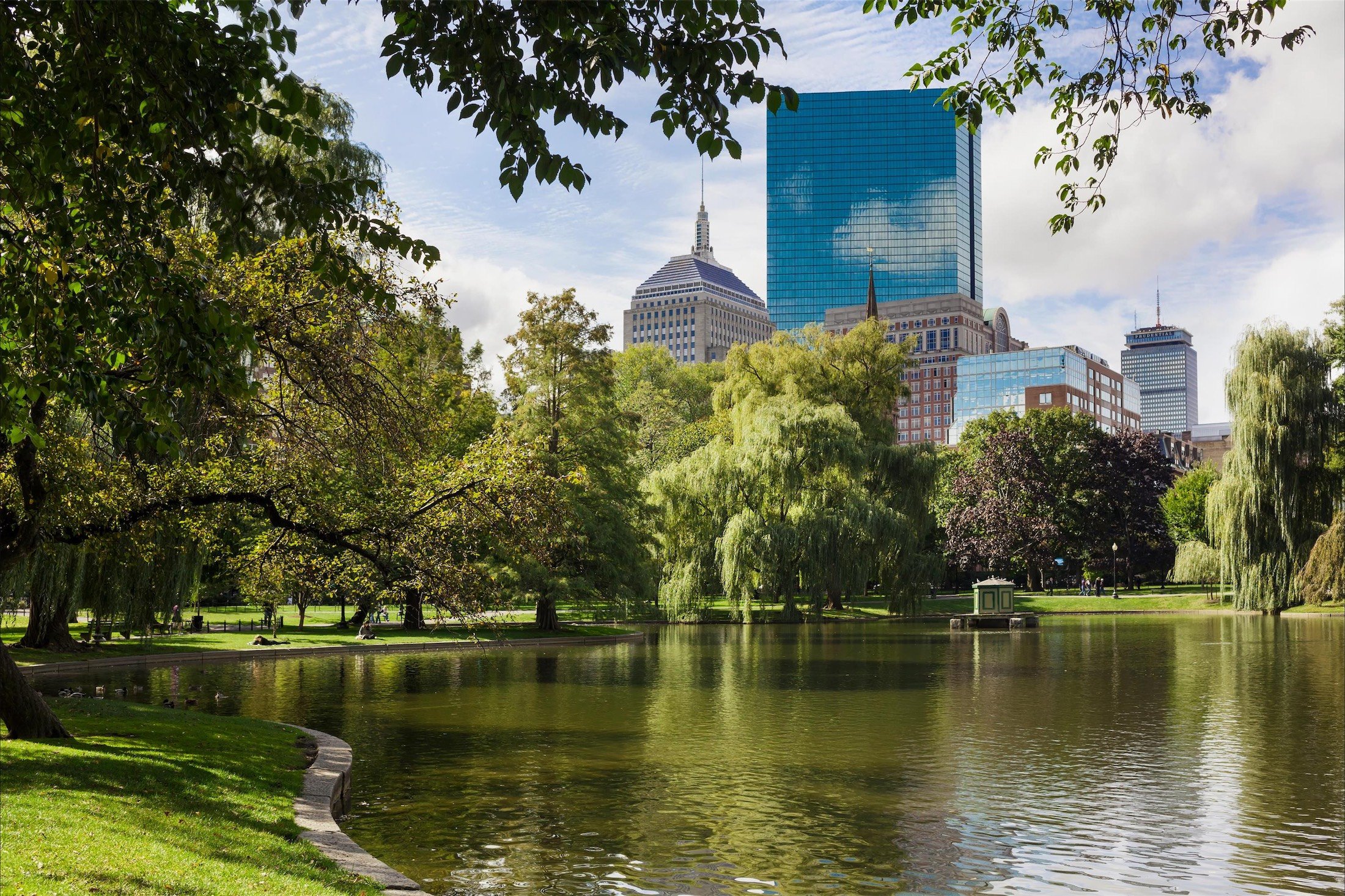 The best of Boston — history, arts and culture, sports, academia, modernism — awaits just outside the hotel doors. You couldn't ask for a more central location, either: within walking distance or easy access to many of the city's famed sites and attractions. Whether you're here for a weekend getaway, business engagement or week-long vacation, take in all the Bucket List musts: the Museum of Fine Arts, Boston Common, Freedom Trail.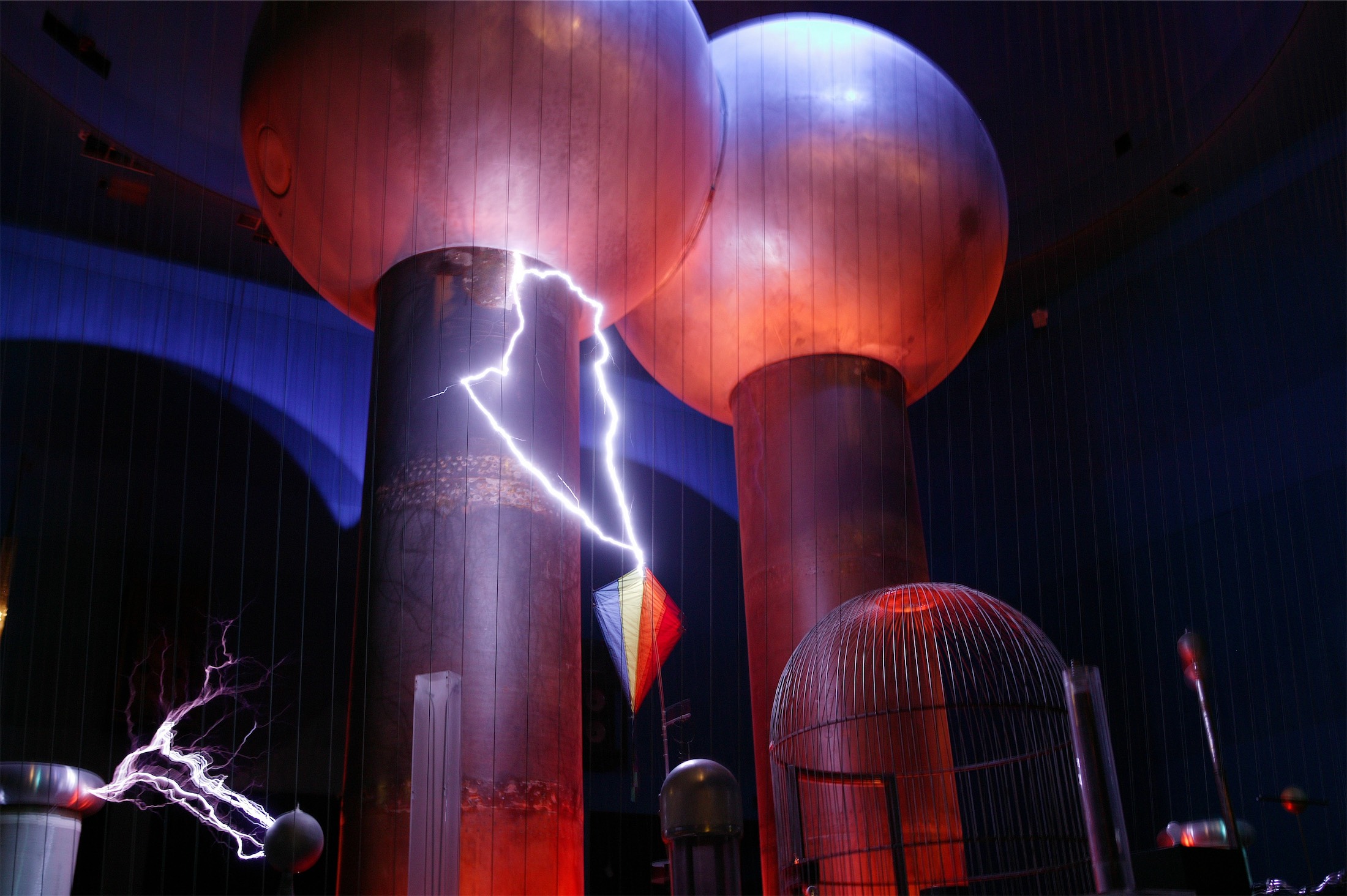 They don't call us the "Athens of America" for nothing. Boston is home to some of the world's most venerated arts and educational institutions, many a short walk from Fairmont Copley Plaza. Take the vast Museum of Fine Arts, boasting one of the most comprehensive collections anywhere: a half million pieces from ancient to contemporary. Set aside time to tour the city's 60-plus galleries, libraries and museums.
From elegant Boston restaurants offering unforgettable culinary experiences, to casual eateries and quaint cafés, you'll find many exciting dining options just steps away from our hotel.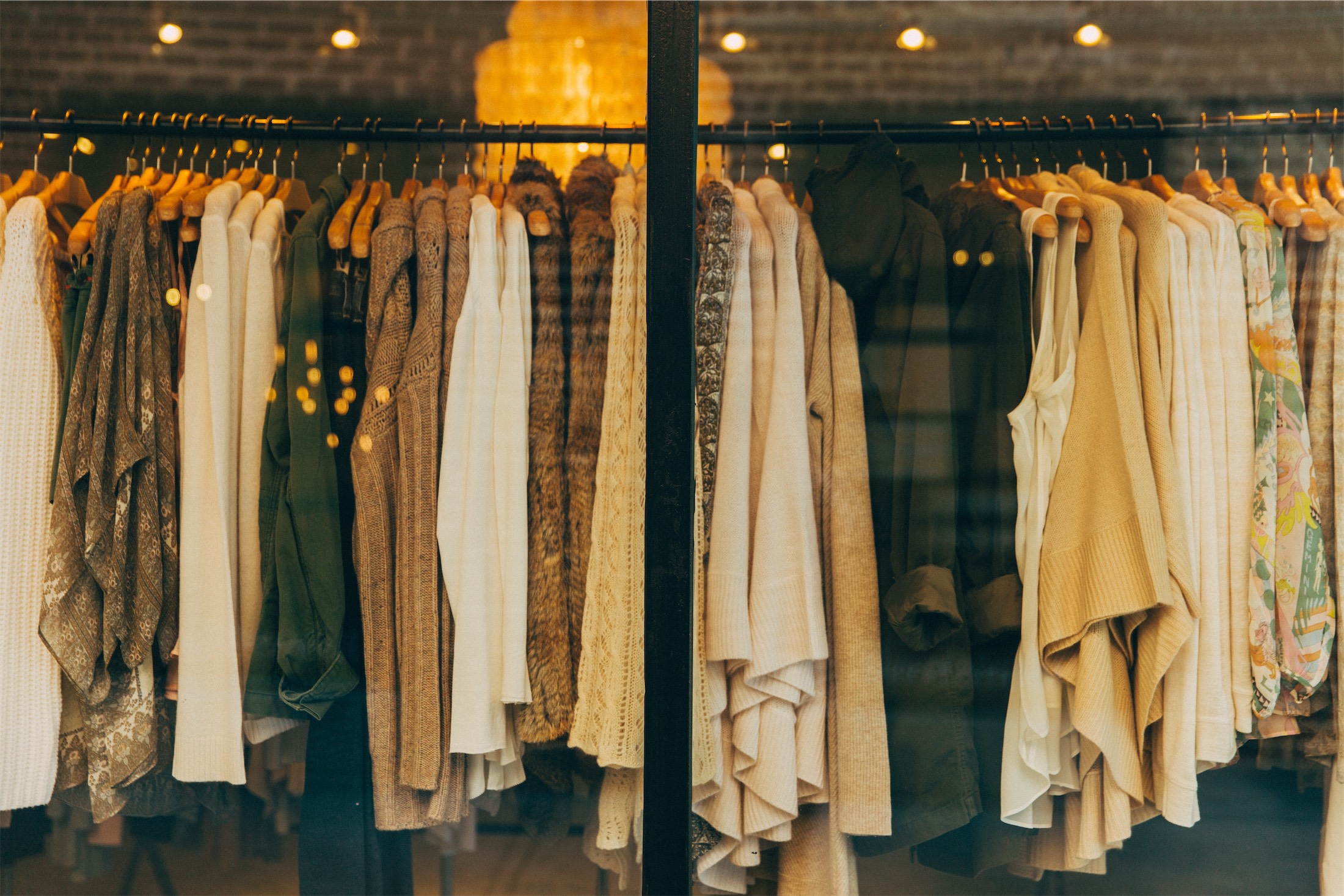 Centrally located in Boston's historic Back Bay, the hotel sits just steps away from amazing shopping down Newbury Street to the Shops at Prudential Center.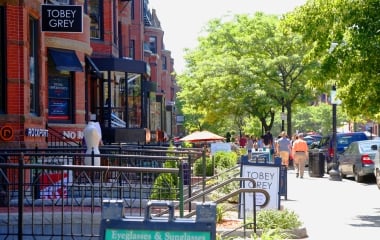 Newbury Street
Known as the Rodeo Drive of Boston, Newbury Street is located one block from the hotel and features some of the best shopping in Boston. From high-end designers to popular retail stores and tiny boutiques, you'll find it all here.
Walking Distance: 10 minutes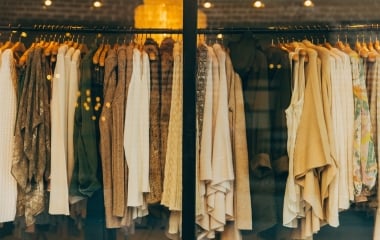 Copley Place Mall
The ultimate shopper's paradise is located just a few steps from the hotel at Copley Place Mall, Boston's most distinctive indoor shopping destination. Copley Place features over 65 fabulous stores, including Neiman Marcus, Barneys New York, Tiffany & Co., Jimmy Choo, Salvatore Ferragamo, David Yurman, Louis Vuitton, Emporio Armani, Christian Dior, and Burberry.
Walking Distance: 10 minutes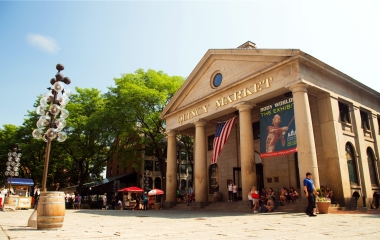 Faneuil Hall Marketplace
Don't miss historic Quincy Market and Faneuil Hall Marketplace. You'll find uniquely Boston offerings in both food and merchandise with over 50 shops and over 100 food and beverage options (everything from quick-service eateries to full service, fine-dining restaurants). The live street musicians and cart vendors provide lots of extra flavor!
Walking Distance: 10 minutes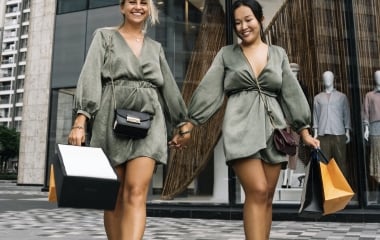 Shops at Prudential Center
Connected to the Copley Place Mall, the 75 retail outlets at The Prudential Center are within a short walking distance from Fairmont Copley Plaza. Shops include Ann Taylor, Club Monaco, Free People, Vineyard Vines, and Saks Fifth Avenue.
Walking Distance: 10 minutes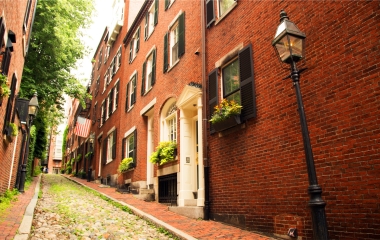 Charles Street (Beacon Hill)
Browse anything from specialty nuts and artisan chocolate to artist stationery, designer handbags and Edwardian brooches. Exclusive Charles Street is the go-to in the lovely historic Beacon Hill district (one of the city's oldest) just north of Boston Common, lined with vintage lanterns and Federal-style brick row houses with bistros and bakeries, toy stores and niche boutiques — like avant-garde accessories or hand-tooled cowboy boots in suede, calfskin and alligator.
Walking Distance: 10 minutes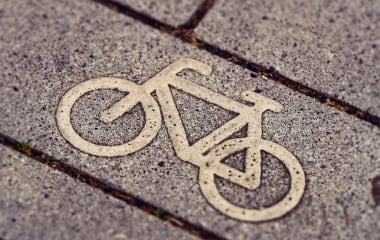 Urban Adventours
Modern metropolis meets history in the birthplace of the American Revolution. Learn about our city's traditions, tales, favorite haunts and 23 distinctive neighborhoods dating back some 400 years. Join one of specialist Urban Adventours' professionally guided biking round-abouts or request a custom itinerary. Cycle past Boston's waterways, monuments, Fenway Park, the Charles River and famed districts like Beacon Hill from the North to South End, then stop in at local haunts to sample the food and drink.
Walking Distance: 10 minutes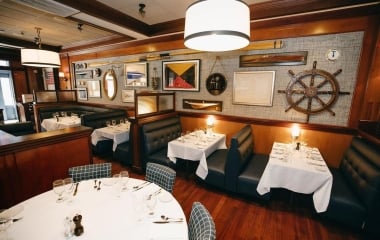 Atlantic Fish Company
Atlantic Fish, located in Boston's Back Bay, has been serving New England's freshest catch since 1978. The fine-dining landmark serves award-winning classics alongside signature dishes. The fresh catch menu features hand-selected seafood, sourced from the harbor every morning.
Walking Distance: 10 minutes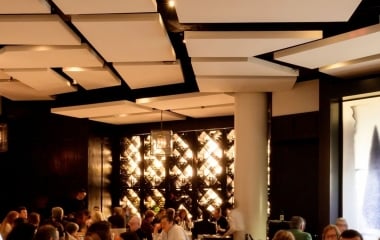 Sorellina
Contemporary Italian-Mediterranean cuisine served in an upbeat and sophisticated environment by a staff intent on providing you with a truly memorable dining experience. Sorellina, the 'kid sister' of acclaimed Chef Jamie Mammano's Mistral provides an intense look at regional Italian food with a modern twist.
Walking Distance: 10 minutes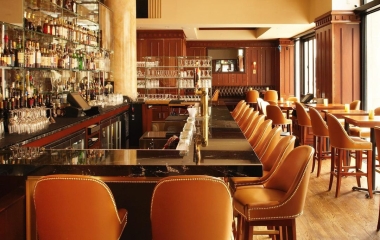 Grill 23 & Bar
Brandt family beef, New England seafood, seasonal produce, decadent desserts, a world-class wine list, outstanding service and warm hospitality. A truly American experience. Boston's top steak and seafood grill for more than 30 years.
Walking Distance: 10 minutes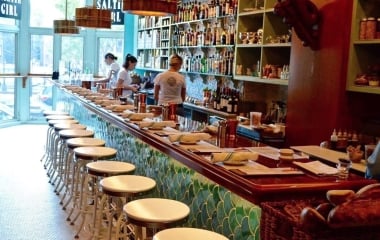 Saltie Girl
Saltie Girl focuses on globally-sustainable iterations of fresh fish & seafood, be it fried, sautéed, raw, house-potted, smoked or tinned.
Walking Distance: 10 minutes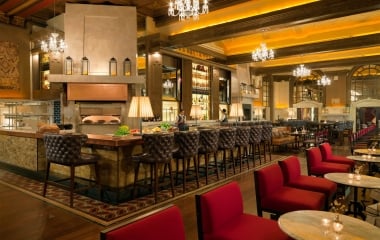 OAK Long Bar + Kitchen
Dine in high style at OAK Long Bar + Kitchen. The fresh, farm-to-table menu features locally inspired ingredients to savor among dramatic, artfully-restored surroundings. More than just an inspiring dining destination, OAK is a beloved spot for locals and visitors alike, where patrons can see and be seen.
Walking Distance: 1 minute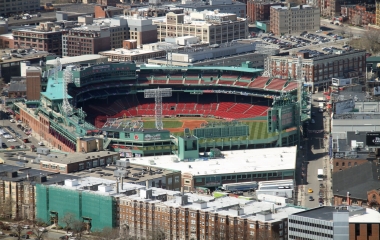 Fenway Park
Fenway Park has been home to the Boston Red Sox since 1912 and is the oldest stadium in Major League Baseball. In addition to the Red Sox, Fenway hosted numerous other games and events. From 1963 to 1968, it was home to the Boston Patriots (later New England Patriots) of the American Football League, and various collegiate football teams also competed there. Other sporting contests included boxing and wrestling matches and ice hockey games. Fenway also hosted a number of political events, including rallies by U.S. Pres. Franklin D. Roosevelt (1944), Barry Goldwater (1964), and Eugene McCarthy (1968).
Walking Distance: 10 minutes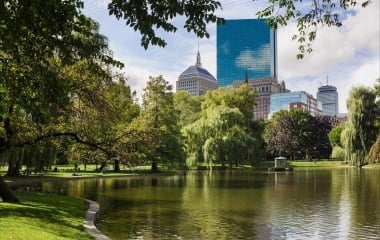 Boston Public Garden
Large and leafy, this beloved community space dates to 1837 as the first public botanical garden in the U.S. Decorative and colorful, romantic and tranquil, with Victorian-style flower bed patterns, vibrant annuals and showy greenhouse-cultivated exotics, this horticultural showpiece is a favorite for Bostonians and visitors in all seasons.
Walking Distance: 10 minutes
Boston Common
Picture the Puritans strolling along the pastures back in the early 1600s at American's very first public park. Colonists bought the original 44 acres from European settlers in 1634 to establish downtown's Boston Common, an icon just a short walk from the hotel, also the start of The Freedom Trail. Today, the green urban oasis is 50-plus acres of lawns and flower beds, fountains and sculptures, sporting fields and playgrounds, a popular spray pool and carousel, plus the beloved Frog Pond.
Walking Distance: 10 minutes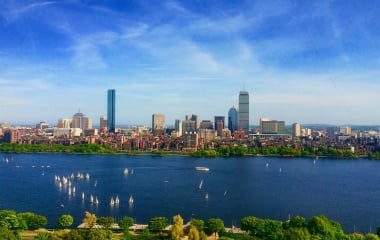 Charles River Esplanade
A treasured, tree-filled oasis, the riverside Charles River Esplanade is a favorite of locals and visitors alike: a 17-mile-stretch in all, just 10 minutes on foot from the hotel. Watch the sailboats glide and rowers paddle under arched footbridges from a shaded bench or jog the three-mile greenbelt from Boston U. to the Museum of Science.
Walking Distance: 10 minutes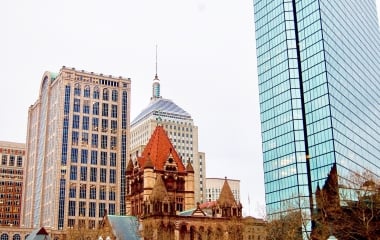 Copley Square
Copley Square is one of Boston's most architecturally significant and instantly recognizable public locations. This urban square is home to Trinity Church, the Boston Public Library, Old South Church and the Hancock Tower, among other important landmarks.
Walking Distance: 10 minutes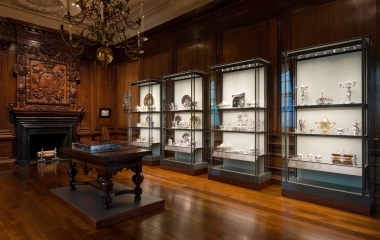 Museum of Fine Arts
With a collection of 450,000 objects, The Museum of Fine Arts owns some of the most rare and important artistic treasures in the world. At every turn, you'll find breathtaking works of art, from masters of American painting to the icons of Impressionism, from exquisite Asian scrolls to Egyptian mummies. Did you know Fairmont Copley Plaza was built on the original site of the Museum of Fine Arts? When their collection outgrew the smaller space, the MFA chose to build a new, larger museum ten minutes west.
Walking Distance: 10 minutes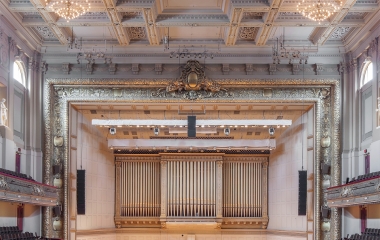 Symphony Hall
Fairmont Copley Plaza is the 'official hotel' of the Boston Symphony Orchestra (BSO) and the Boston Pops.
Opened in 1900, Symphony Hall is a concert hall designed by the architectural firm McKim, Mead and White. It was built for the Boston Symphony Orchestra, which continues to make the hall its home. Opened in 1900, Symphony Hall is a concert hall designed by the architectural firm McKim, Mead and White. It was built for the Boston Symphony Orchestra, which continues to make the hall its home.
Walking Distance: 10 minutes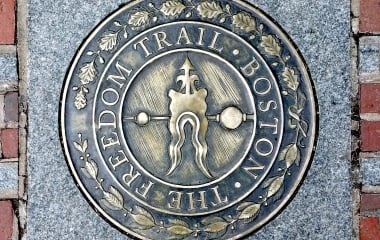 Freedom Trail
Tenth grade social studies a little foggy? Or perhaps you're a bona fide history buff. Regardless, you'll delight in a trip down The Freedom Trail. The 2.5-mile red brick road takes you in and around 16 national sites, museums, parks, burial grounds and historic markers illustrating Boston's rich Colonial history and pivotal role in the 1775 American Revolution.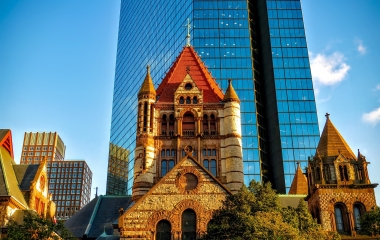 Trinity Church
Trinity Church is located across the street from our hotel in Copley Square and was foudned in 1733. The building has been designated as "one of the ten most important buildings in America" by the American Institute of Architects.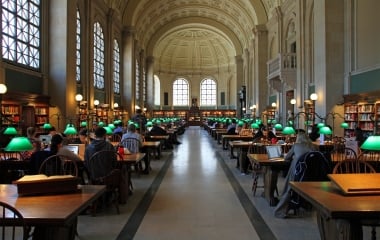 Boston Public Library
Not just a grand building with shelves of ancient tomes, the famed Boston Public Library is a celebrated landmark. It's also right across the street from the hotel. Particularly cherished is the Bates Hall Reading Room with its dramatic coffered ceiling soaring 50 feet up. Housing 24 million volumes, the 1848 library is the largest of its kind in the country and home to many firsts.
Loading map ...
Exclusive Offers and Updates from Fairmont Copley Plaza